Welcome!
My name is Ruth Stanley and I am an Independent Certified Massage Therapist. I have a comfortable understanding of Anatomy, Physiology, Kinesiology, and Pathology. I can apply this knowledge to individualize massage and cater to specific needs, such as rotator cuff and repetitive motion injuries, chronic back and neck pain, limited range of motion, Whiplash, Fibromyalgia, and much more. I am well trained in Deep tissue massage, Ashiatsu Deepfeet Therapy, Swedish massage, Trigger Point Therapy and other modalities.
I have a clean, comfortable studio that is located in downtown Grand Junction at 123 N. 8th Street, Grand Junction, CO. I look forward to serving you soon!
---
Ashiatsu DeepFeet Bar Therapy is now Available!
Ashiatsu (foot pressure) is a barefoot massage technique using comfortably deep gliding pressure over your body. Bars overhead are used by the therapist during the massage session for balance and support. Combining gravitational force with centripetal and centrifugal movements, Ashiatsu techniques are used to create a structural change in chronically tight muscles and soft tissues. This translates to a deeper relaxation with "pain-free" gliding strokes that stimulates the lymphatic system, creating a full-body calmness and well-being. Sweeping deep compressions are used to give you that "hurts so good!" feeling, but without the pain. Ashiastu is the deepest and most luxurious massage available!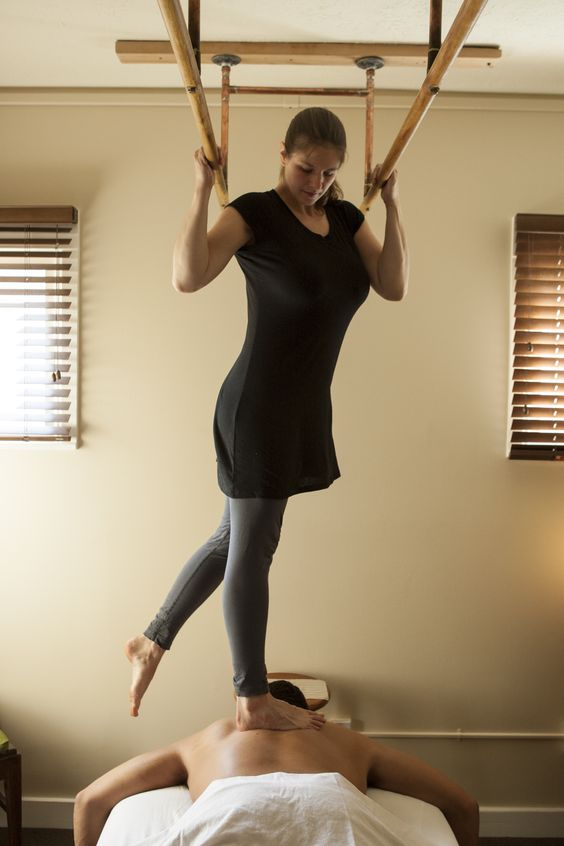 ---
My office is located in the Castle Creek Offices. 123 N. 8th St, Grand Junction, CO 81501, on the corners of 8Th St and Rood Ave. I have a private entrance on the east side of the building. There is metered parking in front of the office or free parking in back.
---
Are you a massage therapist??
Are you interested in networking and doing trades? I would be happy to meet with you.
(970) 712-9620